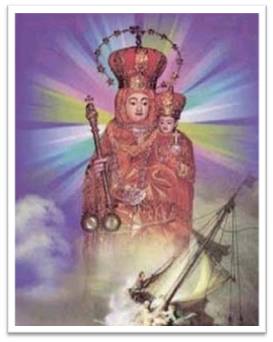 The First Apparition of Our Lady in Vailankanni was recorded during the 16th Century. Our Lady, together with the baby Jesus appeared to a

Hindu boy carrying milk.

This boy was asked to fetch some milk for his master. On the return trip, he stopped to rest under a tree near a pond.

He was awakened from his slumber by the Blessed Virgin with the infant Jesus in her arms. She smiled at the boy and asked him for some of his milk for the Divine Child. After the Child drank, Our Lady smiled at the boy and the vision disappeared. Returning with little milk, the boy's master did not believe his story until the lid was taken off the milk jug and it miraculously began to run over with milk. The next apparition, the Blessed Virgin appeared to the boy with the Child Jesus in her arms. Both were enveloped in the brightest light. She asked the boy for a cup of buttermilk. Upon receiving the cup, the Queen of Heaven gave it to her Infant Son and asked Him to heal the boy's legs. She then told the boy to visit a wealthy gentleman who lived in another town and ask him to build a shrine in her honor on that very place. Just as the boy was about to protest that his infirmity made it impossible for him to travel, Our Lady commanded him to get up and walk. He then realized that his withered legs had regained their strength and motion. He immediately went to see the gentleman. Upon arriving the gentleman received him warmly and immediately complied with Our Lady's wishes. He had received the same message in a dream the previous night. He had a simple chapel built on the same spot where the Basilica stands today. Today many Pilgrims, still visit this place. Many Miracles were attributed through the intercession of Our Lady under the Title of "Our Lady of Health."